Gun Store – Buy A Gun – Pistols, Rifles, Ammo
Centerfire Shooting Sports Gun Store offers a full line of new handguns, rifles, shotguns, apparel, and accessories available in our Olathe, KS store, or you can use our online gun store at  www.centerfiregunstore.com.
Don't See the Gun You Want To Buy On Our Online Gun Store? Call Us & We'll Get It! 913-782-4900 or email us at gunbroker@centerfiress.com
Centerfire Shooting Sports will also buy used guns and trade firearms. We are also a Class III dealer and stock suppressors. Our competitive pricing and personalized, knowledgeable sales associates will be happy to help you find the right gun to fit your needs.
Don't forget to ask about our lifetime warranty on all new firearms purchased through our retail firearm store!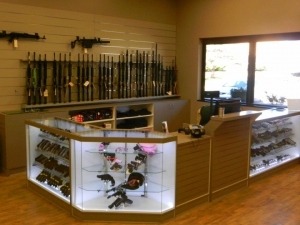 Centerfire Shootings Sports offers Layaway. Click here for more information about our layaway program.
Centerfire Shootings Sports is a gun shop (also known by various other names such as firearm store and gun store) that sells small arms, such as rifles, shotguns and handguns. We also provide repairs for firearms and their parts. Our retail shop also displays various items of clothing apparel and accessories on racks and shelves for both hunters and urban outfitters.
We are authorized dealers for, but not limited to the following manufacturers.